Welcome to 2022!
R3 provides a suite of business software solutions that are purpose-built for Federal Government Contractors ("GovCon"). Our software helps you Win more government RFPs and Task Orders, Deliver the business more successfully, and better Manage contracts, subcontracts and supporting activities across the organization. 
See R3 @ Your Service: GovWin IQ Auto-Import
R3 GovCon Suite Solutions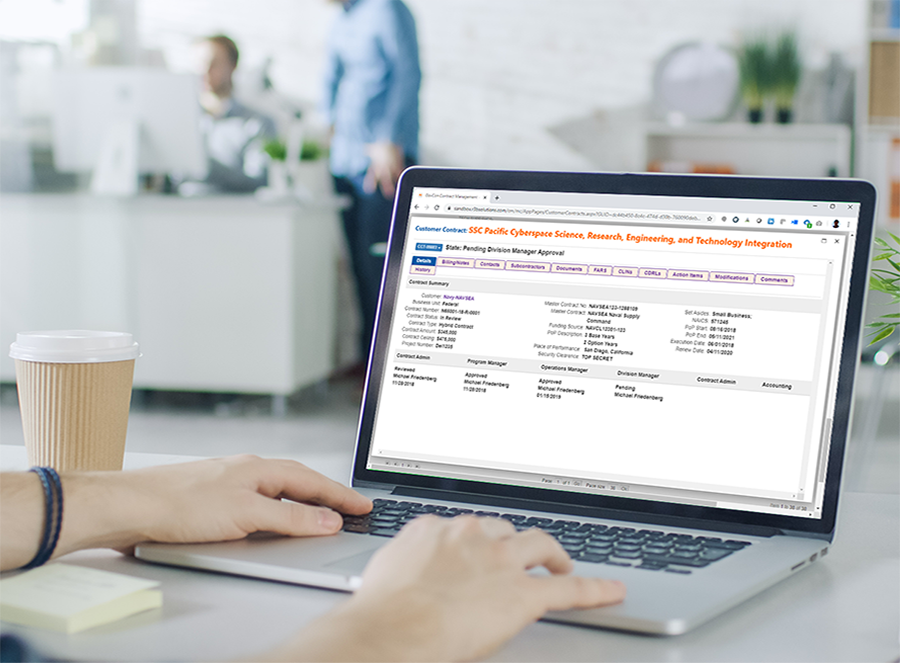 Contract Management
Industry-specific Contract Management for Federal Government Contractors.
Featured Case Studies
Excentium Inc., a fast growing SDVOSB providing cybersecurity and governance services to the Federal Government, uses R3's Contract Management software to increase the speed and accuracy of its contract management operations.

Solution: Contract Management

 
Summit Consulting, a small and growing minority-owned management consulting firm, leverages R3 WinCenter for better BD data management and gains strategic and tactical value across the BD lifecycle.

Solution: WinCenter

 
VT Halter Marine, Inc., is using R3's Integrated Contract and Program Management Software to Manage the Design and Build of "First of Class" Polar Security Cutter Ship for the U.S. Coast Guard.

Solutions: Program Management and Contract Management
Bringing It All Together
R3 Solutions extend to integrate with others systems across GovCon organizations. Watch the videos to see how we integrate with GovWin IQ & TOONS and Salesforce to make it easy to onramp opportunities. And, our integration with Microsoft Teams to put the power of R3 Solutions at the fingertips of users working in Teams.
GovWin IQ Auto-Import (WinCenter)

Automatically import opportunities from GovWin IQ directly into WinCenter.  Just mark the opportunities and WinCenter will import all the associated data and documents and continually sync the information to ensure it's always up to date.  Manage the opportunities through their full lifecycle using all the great features of WinCenter.

 
R3 WinCenter Connector for Salesforce

Robust integration with Salesforce provides you with a seamless GovCon BD Lifecycle process. Push new opportunities into WinCenter or into Salesforce. Two-way synchronization keeps everyone working with the same information.

 
R3 WinCenter Apps for Microsoft Office 365 Teams (WinCenter)

You can now leverage Microsoft Teams to drive BD, Capture and Proposal work. Just snap R3 WinCenter Apps into Teams. It makes it super convenient for people to get real-time visibility and get work done to drive opportunities through the lifecycle. This video will show you how it works and walk you through examples of core teams involved in winning business: Executives, BD, Capture, Proposal Development and SME's.
How do we do it? With purpose-built GovCon Solutions based upon a uniquely flexible Work Management Platform.
Customers achieve results quickly by leveraging our suite of off-the-shelf GovCon Solutions. Each solution becomes part of an open, flexible, inter-connected GovCon workplace running on Microsoft SharePoint.. With R3, you eliminate silos, streamline and automate work, and, make it easier to get work done. You get a better way to work without giving up the ability to have it your way.

R3 GovCon Suite
Get started with any of our R3 GovCon Suite solutions to help you Win, Deliver and Manage your work. They address the business-critical activities of Winning and Delivering business. And, they work together to make work easier, more productive and more manageable. What do you need in your GovCon workplace?

Have it Your Way
Every GovCon organization is different. Isn't it about time your software did the flexing to meet your needs, rather than you having to change to use the software. The flexibility of R3's Work Management Platform empowers you to create a work environment that works the way you need it to.