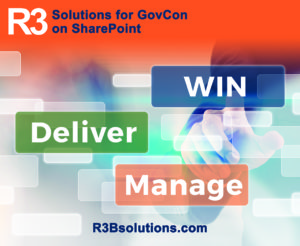 R3 provides purpose-built business solution software for Federal Government Contractors ("GovCon") and the services to implement them and make you successful. We provide solutions to help you Win more business, help you Deliver the awarded work, and enable you to better Manage the supporting activities.
The Situation
The GovCon industry does a lot of information work.  There are very few processes that exist in a silo.  Most activities tie into Winning business and Delivering it. With the competitive nature of the space, how you get your work done is becoming increasingly important in determining your success. Yet, there is a vast gap in the middle of most GovCon businesses where the work gets done.  Users are engulfed in manual processes, Excel spreadsheets, and email.  Some activities are automated using legacy, proprietary systems that stifle innovation and relegate work to silos.  Homegrown systems are custom developed at a high cost and risk.  The status quo is ripe for change and innovation.
A Better Way to Work
R3 brings you a better way to work.  We provide off-the-shelf, purpose-built business solutions from R3 and Partners that get you started quickly at less cost.  These solutions are unusually flexible allowing you to customize, enhance and extend them on your own.  All of these solutions are able to be flexibly deployed and natively connected enabling you to create an integrated work environment that meets your unique needs.
Our key differentiation is that all of our solutions are built on an open application platform powered by HumanTouch CorasWorks on Microsoft SharePoint.  This approach enables us to deliver a new level of business value to Federal Government Contractors. You get the benefit of off-the-shelf business solutions with the flexibility to change them as you desire.
Working with R3
You can work with R3 in a number of ways.  You can purchase R3 built solutions and we'll work with you to implement them. We can help you integrate these solutions with each other and with external systems.  And, since not every application is covered by an off-the-shelf solution, we'll also work with you to come up with a customized Jump Start solution that meets your business needs but do it faster, cheaper and at less risk because we leverage an open application platform.